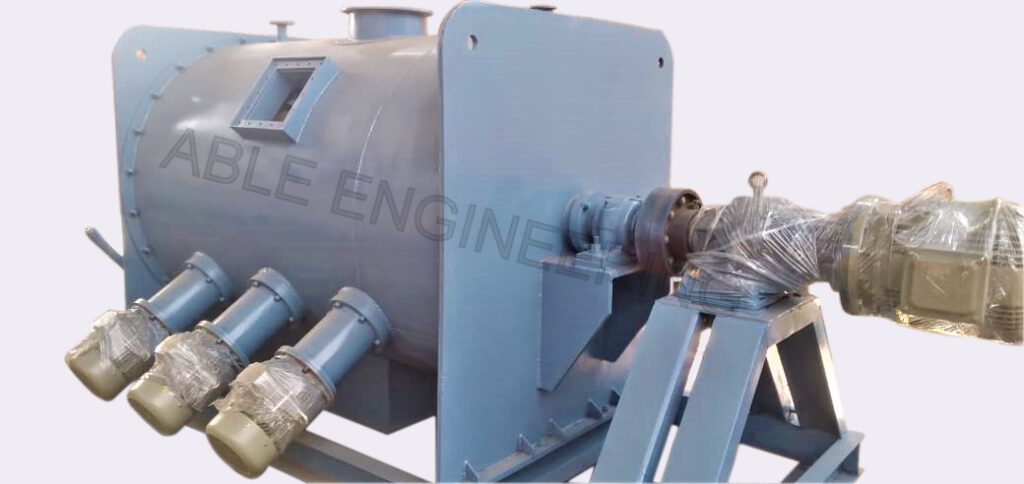 Plough Shear, also known as Ploughshare, is a mixer that is mainly used for processing powder, granulates, grains, fragile material, viscous products, and cement and concrete materials. This works best in many industries. This design is for heavy-duty blending of both dry and wet materials. The plough shear mixer creates a mechanical fluidized bed mixing action. This mixer has a very good mixing effect for the materials, which have a great difference in grain and density.
Able Engineering is a leading and well-known manufacturer of chemical plants and chemical plant machinery in India and provides high-quality plough shear mixers at affordable prices.
Working Principle of Plough Shear Mixer:-
The plough shear mixer consists of a cylindrical drum containing plough shaped mixing elements mounted on a horizontal shaft. The agitator's shaft is located in the centre of the drum and has welded or bolted arms on which the "Plough" shaped mixing elements are mounted. Because of these plough shaped mixing elements the plough shear mixers got its name. Independently driven high-speed choppers may be installed to disperse agglomerations and control granulation during the mixing process.
Standard Features:-
Stainless steel and mild steel construction
One end was bolted, while the other was welded.
Normal temperature and pressure inside the mixer.
Gear Reducer Motor.
Air Purge Seal + Gland Packing Seal.
Pneumatic operated outlet valve.
---
ABOUT US
Able Engineers Private Limited, also known as Able Engineering, is a leading manufacturer of herbal extraction plant machinery and a fabrication company that offers our clients a wide breadth of experience and knowledge. Our expert team has extensive knowledge of herbal extraction plants and machinery, pharmaceutical plant machinery, food processing plants and machinery, dairy and milk processing plants and machinery, chemical plant machinery, and calcium processing plants.
Our Values
Quality and safety first.
Monitoring continuous improvement through learning and development.
Innovation and creativity in solving problems.
An empowered, committed and motivated workforce.