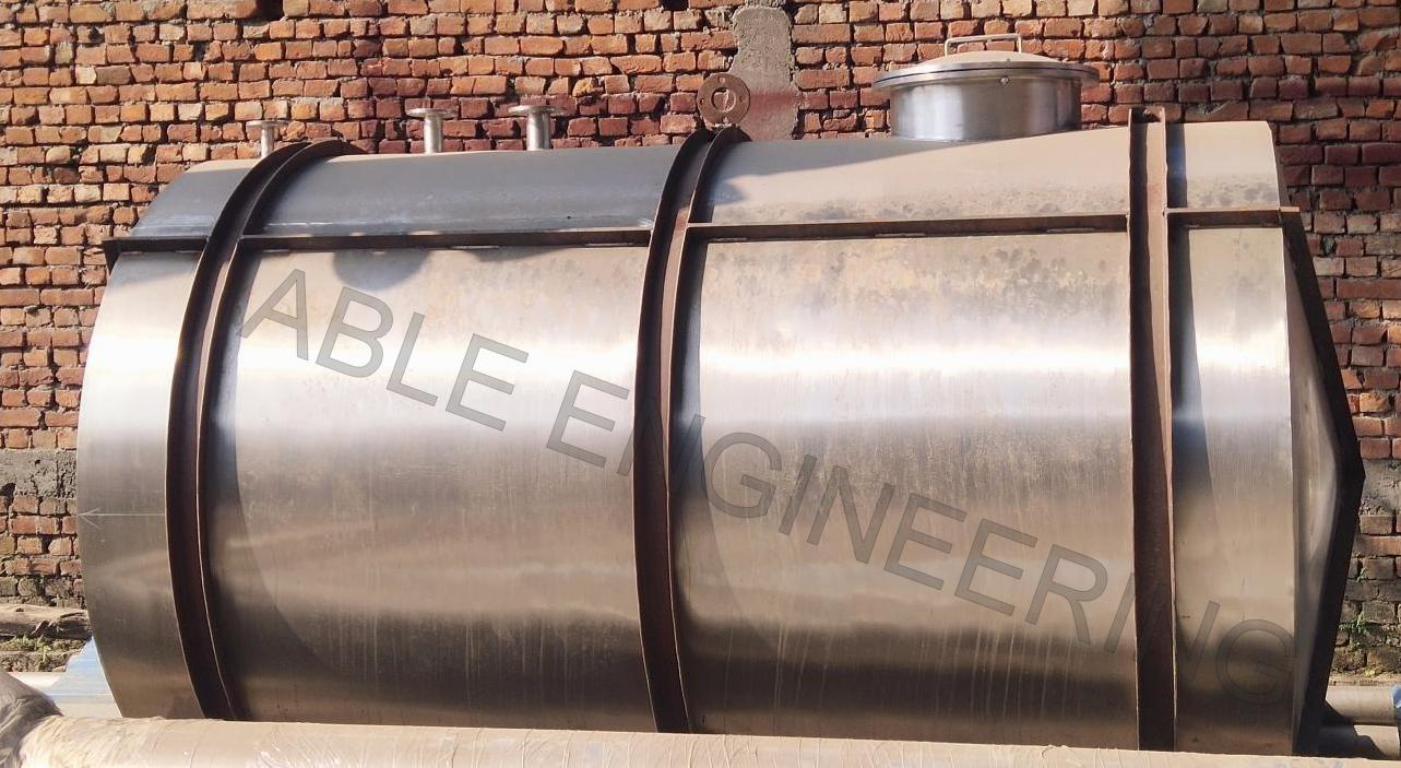 We design and manufacture Solvent Storage Tank to store solvent in the herbal extraction plant. Storage tanks are containers that hold liquids, compressed gases, or mediums used for the short- or long-term storage of heat or cold. Storage tanks are often cylindrical in shape, perpendicular to the ground, with flat bottoms, and a fixed, frangible, or floating roof. These tanks can be used to hold materials such as petroleum, waste matter, water, chemicals, and other hazardous materials. These tanks are available in many shapes: vertical and horizontal cylindrical; open top and closed top; flat bottom, cone bottom, slope bottom, and dish bottom. Most storage tanks for handling liquids during transportation are designed to handle varying degrees of pressure. These tanks have a wide demand in various processing industries because they are highly qualitative and cost-effective.
Able Engineering manufactures solvent storage tanks having a capacity in the range of 250 litres to 150,000 liters. We provide full customization on our storage tanks as per the specifications and requirements of the client.
Types of Solvent Storage Tank:-
Horizontal Storage Tanks.
Vertical Storage Tanks.
Elliptical Shaped Storage Tanks.
Dished Shaped Storage Tanks.
Flat Storage Tanks.
Conical Head Storage Tanks.
Single, double, or triple wall tank.
Triple wall tank with limpet, dimple, helical, or plain jacket.
High-speed or low-speed agitators.
Material of construction SS 304 /316/304L/316L.
Suitable for indoor or outdoor installation.
---
ABOUT US
Able Engineers Private Limited, also known as Able Engineering, is a leading manufacturer of herbal extraction plant machinery and a fabrication company that offers our clients a wide breadth of experience and knowledge. Our expert team has extensive knowledge of herbal extraction plants and machinery, pharmaceutical plant machinery, food processing plants and machinery, dairy and milk processing plants and machinery, chemical plant machinery, and calcium processing plants.
Our Values
Quality and safety first.
Monitoring continuous improvement through learning and development.
Innovation and creativity in solving problems.
An empowered, committed and motivated workforce.